November 23, 2020, California – Living in a modern world brings us across so many products made to facilitate our everyday tasks in less time-consuming and in the most energy-efficient way. However, do we ever think if those products create pollution to the environment and in return harm ourselves on a big scale?
Soleus Air concerned about serving the community toward a greener environment developed a High Capacity Air Purifier with an exclusive double HEPA filter. With six layers of protection: small particle filter, true HEPA filter, Carbon filter, formaldehyde filter, and two stages of UV/Plasma Sterilization, it is capable of remove 99.9% of Escherichia Coli and Klebsiella pneumonia bacteria, most viruses, formaldehyde, mites, and allergens.
Equipped with a quiet supercharged turbo power of purification up to 1000 sq. ft.  This air purifier provides a CADR (Clean Air Delivery Rate) of 470 CFM Clean air to the house.  It is suitable for residential and commercial use.  The Air Purifier is covered with 10 years limited warranty.
EPA, United States Environmental Protection Agency, reports, "Total Exposure Assessment Methodology (TEAM) studies found levels of about a dozen common organic pollutants to be 2 to 5 times higher inside homes than outside, regardless of whether the homes were located in rural or highly industrial areas. Additional TEAM studies indicate that while people are using products containing organic chemicals, they can expose themselves and others to very high pollutant levels and elevated concentrations can persist in the air long after the activity is completed". For more information visit:
https://www.epa.gov/indoor-air-quality-iaq/inside-story-guide-indoor-air-quality/household-products/
For more product information please visit: https://soleusairwest.com/product/high-capacity-air-purifier-kj760f-a02/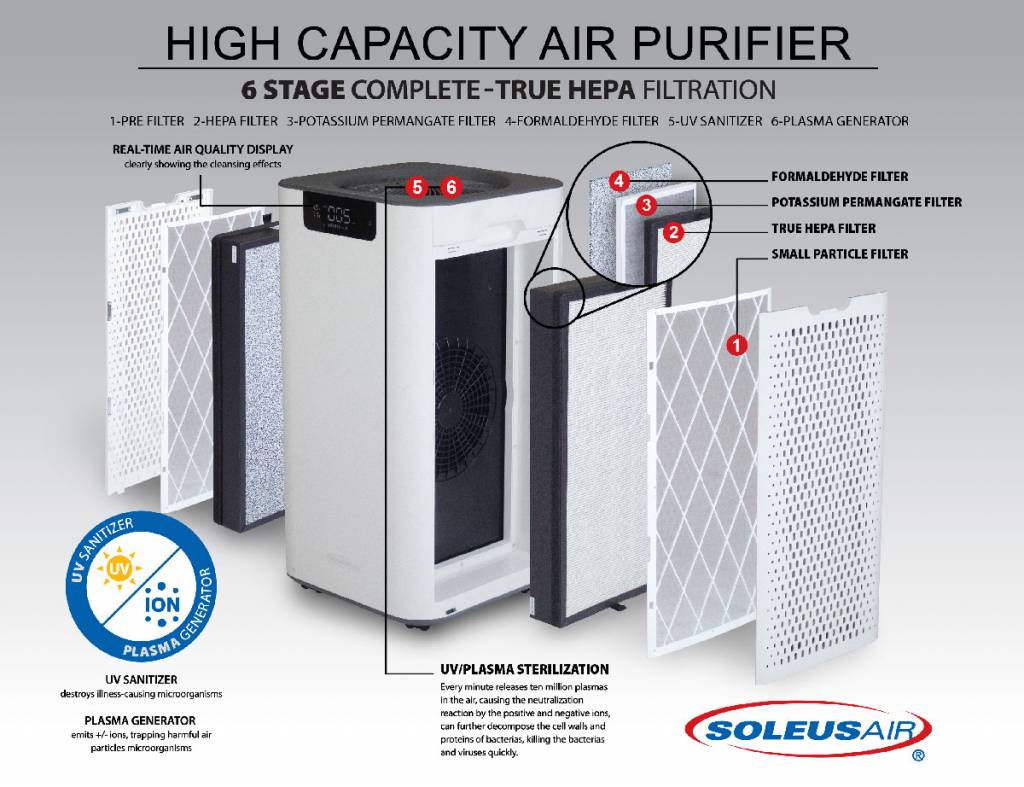 About Soleus Air
Soleus Air was introduced in 1997 and quickly became a leader in the commercial and residential HVAC industries.The brand quickly expanded, creating and innovating consumer categories in the retail space, best recognized in airconditioners, dehumidifiers, heaters and fans. As an innovator, the Soleus Air brand introduced several technologiesthat are considered standard on most products today; heat pump on portable air conditioners, micathermic and reflective heaters, and figure-8 airflow patterns on fans to name a few. Soleus Air built a reputation on qualitycomponents, continuous innovation and proven reliability.